We are excited to announce the appointment of a dedicated senior leader to meet the profession's growing appetite for Quality Improvement.
Laura Playforth will take up the position in the New Year, moving from her current position as Professional Standards Director at Vets Now, the Group's flagship emergency and critical care provider. During her time at Vets Now, she has played a key part in the progression of clinical standards, in addition to Quality Improvement, whilst undertaking a post-graduate master's degree in Advancing Healthcare Practice.
Laura comments, "I am delighted to be taking up the role of Group QI Director, with the opportunity to deliver my passion for quality improvement into all 17 countries of the IVC Evidensia Group. In recent years, QI has rightfully received enormous attention cross the global veterinary professions and I am thrilled to see a company as influential as IVC Evidensia taking such a bold step to empower their teams with the knowledge and tools needed."
She went on to say, "Quality Improvement is about supporting all members of the clinic team to work together to deliver the care they aspire to, whilst also making their roles easier and more enjoyable. It also involves sharing and learning from the many areas of exceptional care delivery by our teams. Given the current challenges we face in the professions, this has never been more important.
QI can be applied to every aspect of how we work within our clinics including key elements such as antimicrobial stewardship, infection prevention and control, pain management, clinical audits and significant event reporting. Together we can develop evidence-based QI tools and guidance which enhance our clinical decision-making whilst retaining the professional judgement and autonomy necessary to provide tailored care for individual patients. My role will be key in supporting teams to get the benefits from QI being an integral part of everyone's daily work – and a part of their work that they get can excited about!"
Laura is also the Vice-Chair of RCVS Knowledge's Quality Improvement Advisory Board, which is the charity partner of the Royal College of Veterinary Surgeons in the UK, dedicated to the advancement of veterinary care.
Alistair Cliff, Deputy Chief Medical Officer comments, "Laura's enthusiasm for Quality Improvement is completely infectious and I am delighted to have her join my team and the Group, where she will strengthen our ability to impact animal wellbeing enormously across Europe and Canada. Her reputation in this field precedes her and I am certain her input will both improve outcomes for our patients, and improve the job satisfaction of the teams delivering that care."
Laura will work alongside the Group Veterinary Medical Board and individual Country Clinical Boards, shaping an approach that is most suitable for individual country teams and all the differing areas of practice. In order to facilitate that, additional team members will be recruited, dedicated to QI.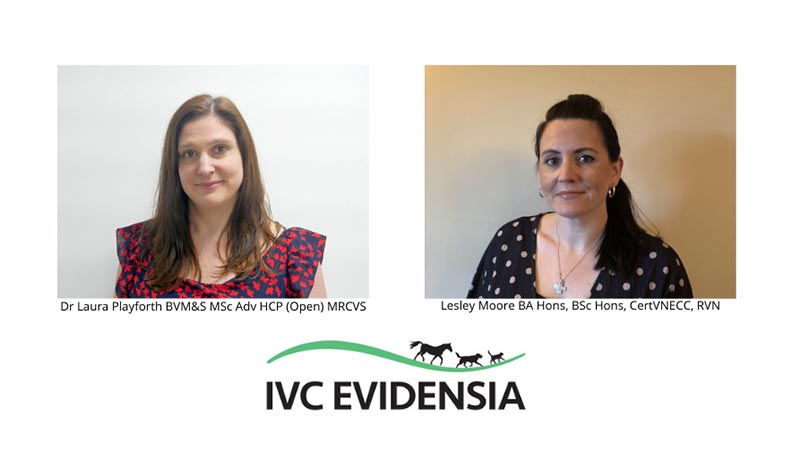 We are also delighted to announce that Lesley Moore will be joining as UK QI Co-ordinator. Lesley qualified as an RVN in 2013 and joined Vets Now in 2015. She has been the Principal Nurse Manager at the Macclesfield clinic since 2016, the same year she passed her Emergency and Critical Care Certificate. Lesley led her nursing team to success in the 2019 RCVS Knowledge QI awards where they were named 'Champion Practice' for their general anaesthetic and sedation audit process. Whilst taking the role as QI Co-ordinator, Lesley will be keeping her hand in with clinical work with a weekend role at the Macclesfield branch.
She commented: "Even though QI is in its infancy within the veterinary professions, 96% of veterinary professionals agree that it improves patient care. The creation of this role clearly demonstrates that IVC Evidensia recognises QI as a continuous process of making the care we deliver better. It is vital for supporting our practices proactively and positively. My role acts as a bridge between all areas of the business in the UK to enable us to drive forward our already high standards."
Edward Davies, Small Animal Clinical Board Chair at IVC Evidensia said, "The new role will give us the dedicated skills and time to drive QI within the UK, with a shared group vision that will align with central projects. QI is obviously incredibly important to improve patient outcomes, client experience and team wellbeing. During these difficult current times, one of the key areas that we aim to focus on is how QI can be used to improve the time pressures for our teams in practice – this will have a significant impact on wellbeing, while further strengthening our clinically-led foundations. I am very keen to get working with Lesley when she takes on her new role in November."