Last month, our Group Chief Financial Officer, Heine Dalsgaard, together with Ireland's Country Manager, Kim Mohan, spent time with some of our amazing clinic teams on the Emerald Isle.
Pictured: Anicare Vets in Dublin. Left to right: Gillian Lynch, Area Support Manager – IVC Evidensia, Michael Hatton, Clinical Director - Anicare, Kim Mohan, Country Manager – IVC Evidensia, Fintan Browne, Clinical Director - Anicare Blanchardstown, Heine Dalsgaard, Group Chief Financial Officer – IVC Evidensia, Nigel Coffey, Global Business Services Director – IVC Evidensia.

First stop was Anicare Vets in Dublin, which is a group of four small-animal first opinion practices. Originally established in 1991 by Clinical Director Michael Hatton MVB, Anicare Vets were the very first practices to join IVC Evidensia Ireland back in 2019.
Fintan Browne, Clinical Director, was delighted to show Heine, Kim and the team around Blanchardstown Hospital, one of Anicare's sites, which is near completion of an extension and refurbishment thanks to recent investments made by IVC Evidensia. The team will soon be celebrating the grand opening of an extra consultation room, a new theatre and cat-only kennels.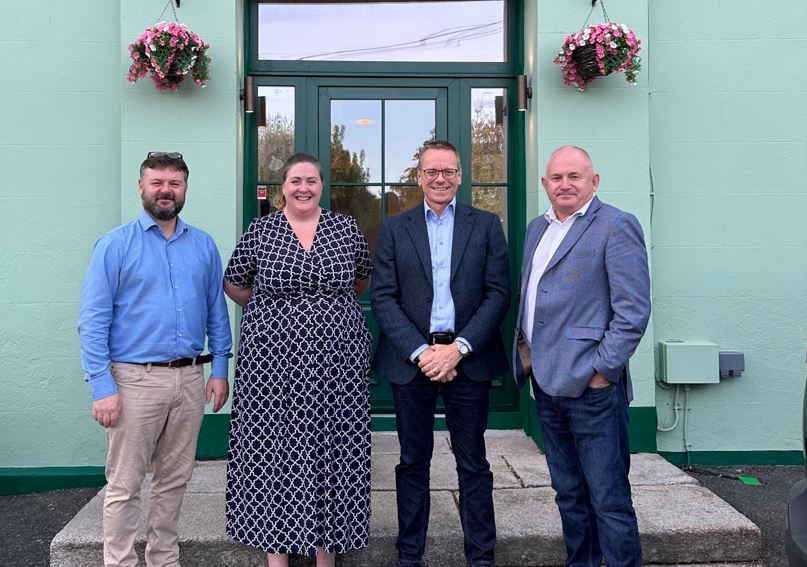 Pictured: Blacklion Veterinary Hospital in Greystones. Left to right: Alan Rossiter, Clinical Director and part-time Group Veterinary Advisor (GVA) for IVC Evidensia Ireland, Kim, Heine and Nigel.

Next stop was Blacklion Pet Hospital, which joined IVC Evidensia Ireland in 2021. This is a small animal, first opinion practice located in the coastal town of Greystones in County Wicklow, along the east coast of Ireland. The practice first opened its doors in 1982 and was one of the first in Ireland to exclusively treat companion animals. Current Clinical Director, Alan Rossiter MVB, now leads the team of two vets and five nurses.

During his visit to Blacklion, Heine was pleased to hear how recent investment in the clinic has led to the addition of another consulting room as well as a dedicated dental room. The recent investments have also allowed for an overdue modernisation of the facilities too, which has been a real morale boost to the team working at the practice.

The last stop for Heine and the team was All Pets Veterinary Hospital, a small animal veterinary hospital in the town of Drogheda, which joined IVC Evidensia in 2020. The group met with Ann-Marie Horgan, Clinical Director, who opened the practice in 2006. Ann-Marie was pleased to show Heine and the team how expansion of the practice in 2018 has led to an increase in the number of pets that the team can care for, which has been invaluable in the local community as the number of pets has soared in in recent years.

Huge thanks to Kim and the team for making Heine feel so welcome during his trip to Ireland.