Following extensive research and development with world leading professors, vets and horse professionals, Europe's leading veterinary care provider, IVC Evidensia, has launched its first exclusive-brand range of equine nutritional health and wellbeing supplements, EquiXcellence.
As part of its ongoing commitment to innovation in patient care, and following demand from horse owners looking for scientific formulations, IVC Evidensia partnered with Vestaplas, leading experts in equine nutritional supplements to create a collection of eleven supplements. Using only certified and sustainable ingredients, together with scientific formulations, EquiXcellence offers high-quality nutritional and performance benefits to horses.
The range is available exclusively at IVC Evidensia practices.
Mark Tabachnik BVM&S BSc CertEP PGCertVBM MRCVS, Clinical Director,
Wright & Morten Vet Group
, IVC Evidensia UK Clinical Equine Board Vice Chairman commented on the new range:
"Creating product ranges with maximum efficacy to support the ongoing health and wellbeing of our patients is key to IVC Evidensia, and we are delighted to launch this exclusive nutritional supplement range which was developed by equine experts for horses.
"The concept came on the back of demand from our horse owners seeking nutritional supplement advice from across our UK network of over 80 equine practices. There was a desire for quality, well-balanced supplements using scientific formulations and sustainable ingredients that supported all categories of horses. The EquiXcellence range offers just this, ensuring quality nutritional and performance benefits."
The collection of eleven nutritional supplements include EquiMove, one of the most highly-regarded equine nutraceuticals for joint health available in the UK. Widely used at the highest levels of competition, eventing and racing, it's also ideal for older horses on maintenance joint support and as a supplement for young growing horses.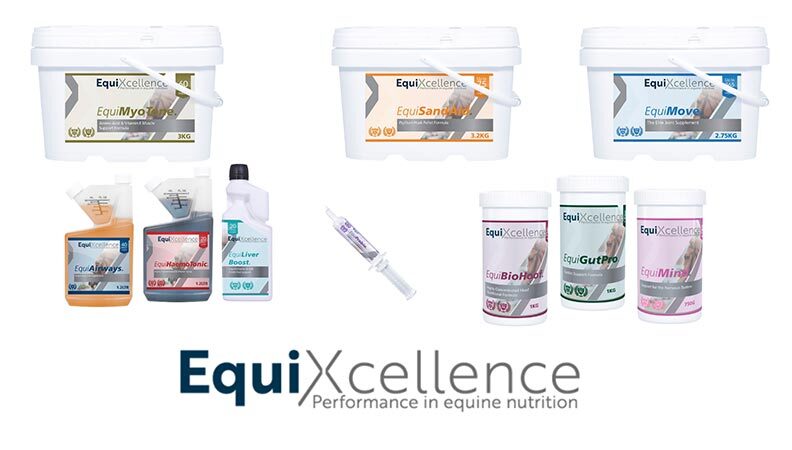 There is also EquiMyoTone, a pellet supplement which complements the feed and recommended for feeding to young horses pre-training or horses which need to gain muscle mass. This supplement aids increased lean muscle mass, helps to improve appearance, supports physical wellbeing and increased strength as well as lean muscular development in young stock.
EquiMind assists the maintenance of the nervous system and promotes calm behaviour, EquiAirways supports a healthy bronchial system, EquiLiverBoost supports liver function, EquiBioHoof supports hoof growth and structure, and EquiProbio Paste promotes digestive and gastric health. Concentrated probiotic and prebiotic EquiProbio, gut balancing EquiGutPro, EquiHaemo Tonic and EquiProBio make up the exclusive range which contribute to equine health and wellbeing as well as work to prevent disease.
Every ingredient within the EquiXcellence range is fully traceable, batch controlled and fully declared so that the veterinary surgeon can make an individualised and informed decision about the best product for the client. IVC Evidensia practices will further benefit from in practice and online training support from Vestaplas – including ongoing practice meetings and webinars, case study interviews with IVC Evidensia Equine Vets, and a range of support materials.
EquiXcellence is the fifth exclusive brand product range developed by IVC Evidensia. It follows on from the acclaimed Vetpro collection, a premium quality 100% natural healthcare product range designed to support the ongoing health and wellbeing of dogs and cats, and VetSoothe, an exclusive clinically-proven dermatology product collection to IVC Evidensia in the UK.