IVC Evidensia has used the opportunity of the London Vet Show 2022 to highlight its ambitious initiative to offer more support for vets and vet nurses, whichever organisation they work for within the profession, to easily report online incidences of non-accidental injuries (NAIs) of animals, in a bid to help tackle domestic abuse.
IVC Evidensia colleagues handed out thousands of stickers with QR codes on them that send vets or nurses concerned about NAI cases in animals to direct and confidential support from IVC Evidensia's Welfare team.
The team handed out over 2000 stickers across the two-day event, enough for over 40% of delegates to have access to this much-needed support.
The scheme being offered universally to the profession could also significantly impact the lives of people in unsafe domestic situations around the country.
The NAI support was first announced as an initiative that IVC Evidensia staff could use in November 2020, consisting of training and support materials to educate staff and raise awareness of complicated cases during the pandemic, when statistics for domestic violence were unfortunately on the rise.
David Martin, Group Veterinary Welfare Advisor, who has spearheaded the initiative, commented: "We then decided to roll it out to all UK clinics in 2021, relaunched as a universal resource after a report from the Dogs Trust found that the majority of domestic abuse cases in the home also involved an animal being abused.
"Through this support network, our welfare team have enabled countless of our animal patients (and at times, vulnerable people) to be extracted from abusive environments and has helped support the securing of convictions.
"By giving out the QR code stickers at London Vet Show, we hope that more vets, vet nurses, technicians and anyone who works in practice, are able to make use of this fantastic support network and we, in turn, are able to assist many more vulnerable animal patients and people in getting the help that they need."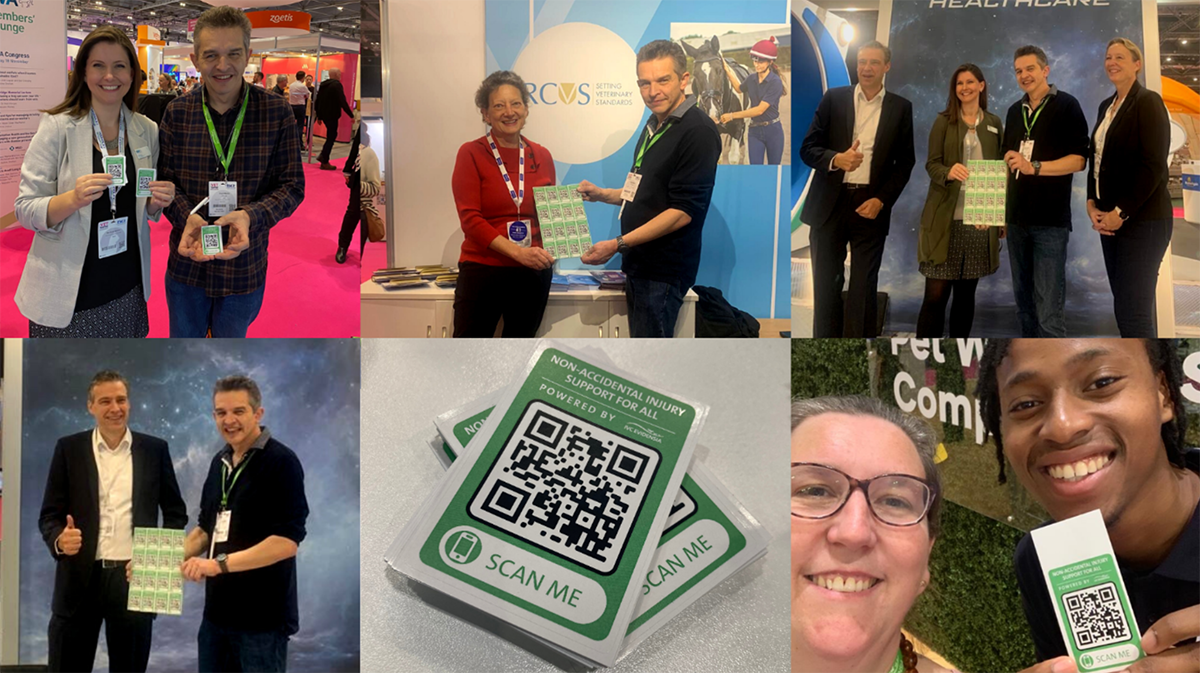 How does the NAI support initiative work?
The NAI support network set up by IVC Evidensia's Welfare team is integral to helping UK practices report complex cases and to ensure there is adequate support for vets and vet nurses who may face a difficult decision to make in-practice.
It is suggested that the stickers are attached to a dangerous drugs cupboard or other visible surface in practice, with the QR code taking users to an online form.
By filling in the form online, a vet or nurse would then be contacted by a member of our welfare team, who would provide vital support for cases that can be stressful, as well as logistically and legally complicated.
The best part is that the support is available for all UK practices, whether they are a part of IVC Evidensia or not.
This support is available all year round with a response time of just a couple of hours. If the form is completed out of hours, then it will be responded to on the next working day.
Find out more about NAI support.

The future of animal welfare
Alongside the NAI support initiative, IVC Evidensia's Welfare team has also been at the heart of other initiatives in the business that will help support vets and nurses.
They include general welfare support for staff with any other animal welfare concerns, working with animal welfare organisations and charities that can provide assistance in specific cases, and support for prosecutions, which also helps organisations such as the RSPCA, SSPCA and Trading Standards in securing prosecutions where animal cruelty or neglect has occurred.
IVC Evidensia also has its Care Fund initiative, which allows clinicians to access financial support to treat pets suffering from serious acute illness or injury.
David Martin added:
"The NAI support initiative is a chance for us to provide veterinary professionals in the UK with the support that they need to improve animal welfare, through advice, resources and practical support in dealing with these very challenging cases.
Richard Sinclair, UK Welfare Lead for IVC Evidensia, commented:
"I am enormously proud to be part of an organisation which is devotes the time and effort needed to create and share these resources, helping champion animal welfare, and support animal owners and the profession as a whole."
For more information about the NAI support and to hear from David Martin, watch this video.
Alternatively, if you missed out on London Vet Show but would like to order stickers for your clinic, please email david.martin@ivcevidensia.com with your clinic name and address.